New Improved Dog!
Meet Paco
Congratulations to my longtime client, Jane Tomlinson of West Los Angeles, and her 3-year-old Black Lab, Paco, on passing the Delta Society exam and becoming a registered animal-assisted therapy team!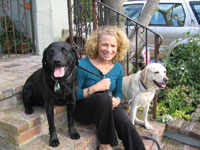 Jane, Paco and Daisy
I've been working with Jane and her Labs for 7 years. It all started when I went to meet Daisy, the yellow lab, as a puppy. We did in-home lessons and taught Daisy all of her basic and advanced obedience commands, as well as a bunch of fun tricks.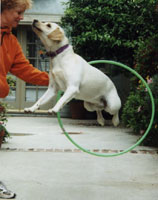 Daisy hula-hoops!
At the time, Jane also had a 10-year-old Black Lab named Basil, who ended up being the poster child for "teaching an old dog new tricks"! Basil watched as we taught Daisy to shake, give a high five, wave bye-bye, sit pretty, turn around, roll over and jump through a hoop on command. Old and creaky as he was, Basil would push his way in front of Daisy to let us know that he wanted a turn, and he ended up being an impressive trick dog, as well!
Basil was just terribly proud of all of the tricks he learned and he loved to show them off. Jane and I still talk about how proud he was when he "jumped" through the hoop… he was too old to really do any jumping, so we would rest the hoop on the ground and he would walk through it, then get all excited, wagging his tail and smiling. Basil was living proof that older dogs are not only capable of learning new tricks, they LOVE learning them!
Basil passed away at 14. Soon thereafter, Jane got a new puppy, Paco. He's a new improved dog now, but, in the beginning, there was a lot to improve upon. Like all puppies, Paco needed to learn his basic commands and had to learn to be housebroken and to behave around the house. Paco was a smart, sweet puppy who was always willing to please. He progressed quickly in all areas of his training, except one. He was the loudest puppy ever.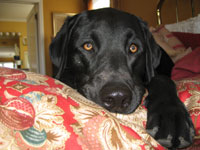 Baby Paco
Paco decided that he didn't like being left alone. He made noises unlike anything I'd ever heard the whole time Jane was away from the house. Kind of a combination of howling, yodeling, screaming and barking. And it was LOUD! You could hear this boy up the street! I set up a program to quiet Paco down, and with consistent, patient training, Jane was finally able to leave Paco in the house without fear of disturbing the whole neighborhood.
Once Paco had quieted down and his obedience training and housebreaking were taken care of, he went on to learn all of the cute tricks that Daisy and Basil had learned. He and Daisy now do their tricks side-by-side, each trying to outdo the other!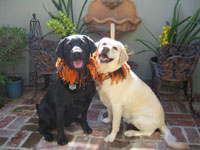 Paco clowning around
Jane and Daisy have been doing hospital visits with the People Animal Connection Program for 5 years. Now that Paco has turned into such a charming gentleman, Jane decided that it was time to get him tested and certified so he could go do some volunteer work, too! We did a quick refresher course to cover some of the things that would be on the test. For example, the Delta Society test requires the dog to remain calm and well-mannered when bumped from behind when walking on leash, to allow a stranger to approach and groom him, and to tolerate people yelling close by. Paco breezed through his refresher course and passed his Delta Society test with flying colors! I'm sure he'll bring a lot of happiness and comfort to the patients at UCLA Hospital, as Jane and Daisy have for the past 5 years.
Congratulations, Jane, on the new improved Paco!